Cable TV Descramblers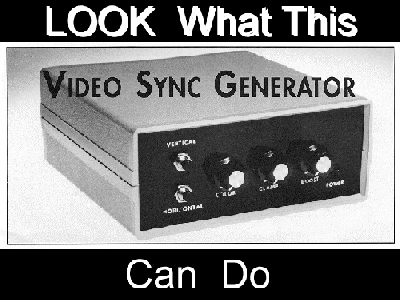 Universal Cable TV Descrambler


The Video Sync Generator is an educational tool for people seeking technical support for evaluating different types of video difficulties. The Video Sync Generator provides internal synchronization for a full range of video signals needed for testing, trouble shooting and or adjusting video monitors, satellite, receivers, video cameras and television systems.

The Video Sync Generator will restore all horizontal and vertical sync lines from standard or distorted analogue video formats. All that is required is a color burst or reference signal located in the video source you are evaluating. This device will lock to color burst of most any video signal. The video could be clamped or unclamped, normal or inverted, DC shifted. This device doesn't care.
| | |
| --- | --- |
| BEFORE | AFTER |
| | |
WARNING
It may be unlawful to operate this device if it is done so with the intent to defraud any person or business by decoding scrambled TV signals or to otherwise violate Federal laws. We will not knowingly sell this product to anyone who intends to use it for any illegal or unauthorized use. The manufacturer and the distributor does not condone any individuals, companies or groups who engage in the misuse of this product in any way.
Buyer shall be solely responsible and hereby assumes any and all liability for the installation, operation and use of this product including without limitation, the obtaining of all permits, licenses or certificates required for the installation or use of such equipment.
This is an experimental device for test purposes only. Buyer assumes total responsibility for product application!
---



Simple Test
To See if it will Work for You.


Will "The Video Sync Generator" work for me?
Video Sync Generator Preliminary Test
-This test is simple and will take no more than 5 minutes.
-You will need a VCR to work with The Video Sync Generator.
-The VCR that you use must not have a Blue Screen feature.
-Hook up your VCR with a direct cable input line.
-Connect your VCR to your TV.
-Use your VCR to tune in a scrambled channel.
-If you are able to produce a scrambled channel on you TV and it has audio sound, than The Video Sync Generator will probably work for you.

*If you are on the Sprucer System, this will work for you.

To View the Back Panel of The Video Sync Generator Click Here.

---
MODEL VSG-RF

Return Policy
You have 30 days to try it. If you return it within those 30 days, and it is still in working condition (I test all units personally before they go out.) then you get a full refund minus the shipping costs.

$239
+$7.00 Shipping and Handling in the USA.
NJ Residents Add 6% Sales Tax.
To Order:
Email: WiLTech Or Call: (856) 753-4188

Click Here To Return to WiLTech's Home Page.



---
If you can't find what you are looking for,
Search On from Here.
GoTo.com is the fastest, easiest way to find the most relevant web sites.
GoTo.com is currently the 24th most visited site on the Web
according to
Relevant Knowledge
---
© 1999 Copyright wiltechy1